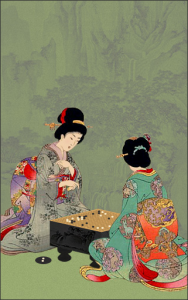 The Evanston Go Club is an official chapter of the American Go Association. We provide a place for people to play, learn, or just watch the game of Go. We are free, open to the public, and we welcome you to come and join us.
If you have never played before, one of our regular players will be more than happy to teach you how to play. If you already know how to play, you will be happy to know we usually have 15 to 20 people attending, ranging in strength from 30 kyu to 4 dan.
Below is a list of all the clubs we know about in the Chicagoland area.
If you know of a club not listed here, please let us know!
EVANSTON GO CLUB
Wednesdays from 6:00 PM to 10:00 PM (or later!)
Starbucks
1734 Sherman Ave
Evanston
LAKEVIEW GO CLUB
Tuesdays 6:00 PM – 9:00 PM
Argo Tea
3135 N Broadway
Chicago
SCHAUMBURG GO CLUB
Thursdays 6:30 PM – 10:30 PM
Starbucks at the Streets of Woodfield
601 North Martingale Road
Schaumburg
TINLEY PARK GO CLUB
Tinley Park Public Library
7851 Timber Drive
Tinley Park
See Meetup page for meeting dates and times.
WEST-SUBURBAN GO CLUB
Alternating Mondays and Tuesdays 6:00 PM – 9:00 PM
Panera Bread
740 N Route 59
Aurora, IL
(at the border of Naperville and Aurora)
See Meetup page to see whether the current week is Monday or Tuesday.
BOURBONNAIS GO CLUB
Sundays 3 PM  – 7 PM
Grapple Games
910 N Convent St.
Bourbonnais, IL
Contact Jeromie Williams at williamsjeromie@gmail.com or 815-370-3691.
Please bring your own board and stones.
YU GO CLUB: CHICAGO
Tuesdays 6 PM  – 9 PM
Bridgeport Coffeehouse
3101 S. Morgan St
Chicago, IL
Contact Greg Kulevich at 661-557-5650 or gkulevich@gmail.com
Take the #8 Halsted bus to 31st Street and walk west two blocks to Morgan Street or
Take the CTA Red Line to Sox-35th and take the #35 35th Street bus to Morgan Street and walk north four blocks to 31st Street.
The #8 and #35 busses run until 11pm. The Red and Orange Line run all night.