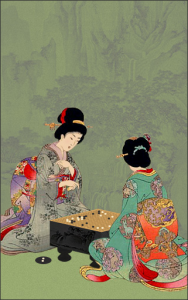 The Evanston Go Club is an official chapter of the American Go Association. We provide a place for people to play, learn, or just watch the game of Go. We are free, open to the public, and we welcome you to come and join us.
If you have never played before, one of our regular players will be more than happy to teach you how to play. If you already know how to play, you will be happy to know we usually have 15 to 20 people attending, ranging in strength from 30 kyu to 4 dan.
We meet every Wednesday from 6:00 PM to 10:00 PM (or later!) at J. J. Java Coffeehouse, 911 Foster Street.
Tuesdays 6:00 PM - 9:00 PM
Argo Tea
3135 N Broadway
Chicago
Thursdays 6:30 PM - 10:30 PM
Starbucks at the Streets of Woodfield
601 North Martingale Road
Schaumburg